Octopus
The octopus, also known as Octopus Vulgaris, should not be confused with squid or squid.
It is only caught when approaching the coast to reproduce

Capture

Dates: September-April.
Type: One on one.

Features

Flesh: Dense.
Taste: Slightly sweet.
Texture: Fibrous and firm.

Formats

Canned and vacuum packed: Industrial format and case for family consumption.

Health

Rich in Vitamin B2, B3 and Potassium. Strengthens the immune system

Perfect size and texture

The octopus season is long: from September to April. This is because the octopus is only caught as it approaches the coast to reproduce. To maintain marine biodiversity, the octopuses are caught one by one using specially prepared pots.

Once cooked, we elaborate our tins by cutting the tentacles one by one and by hand to make sure we find the perfect size and texture before tasting them with a good virgin olive oil.

Want to know more about Octopuses? Check out these articles:
Octopus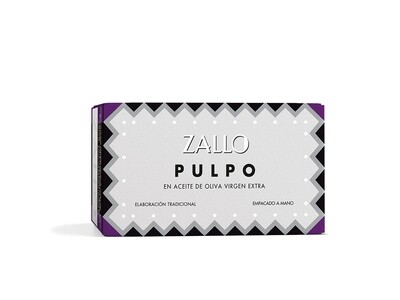 Pulpo en aceite de oliva virgen 112g/ud.
Pulpo en aceite de oliva virgen 112g/ud.